There are four Power ups in the game, all with their own unique abilities.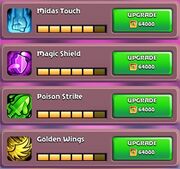 Midas Touch

Has the power to turn enemies to gold
Spawns bags of gold

Magical Shield
Poison Slash

Gives player the ability to defeat any enemy in a single strike

Golden Wings

Grants the ability to fly (slow fall)
Grants "Combat rush" ability
Acts as a coin magnet
Allows the player to jump in air limitless
Ad blocker interference detected!
Wikia is a free-to-use site that makes money from advertising. We have a modified experience for viewers using ad blockers

Wikia is not accessible if you've made further modifications. Remove the custom ad blocker rule(s) and the page will load as expected.